The Flint Public Library of Middleton, MA, offers a variety of resources on the town's history. While some of these resources are available only for use within the library, others are available to be borrowed, and still others are digital resources that are always available from devices with an Internet connection.
Local History in the Library

The library houses its local history collection in the balcony, where these items may be browsed. This collection includes:
Masconomet Regional High School Yearbooks, 1960-present
issues of The Tri-Town Transcript, 1989-present
issues of The Village Reporter, 1998-2009
issues of The Town Crossing, 2007
books by Middleton authors
a selection of historic maps of Middleton
a variety of historic books from and about Middleton, Essex County, and Massachusetts
Vital Records for Middleton may be viewed upon request.

A group of dedicated volunteers is working on compiling binders of photographs, articles, and other sources that relate to various aspects of the history of Middleton. These binders are available to look at in the library, upon request. The topics include:
Business
Cemeteries
Churches
D.P.W., Fire, M.E.L.D., and Police
Chief Masconomet, Will, Witches, and Folklore
Flint Public Library: Buildings and Events
Flint Public Library: People and Programs
Houses
Military
Personal Collection of Laura Woodside Watkins
B.F. Emerson
Charles L. Flint
People 1: A-H, People 2: I-R, and People 3: S-Z
Schools (2 Volumes)
School District
Social Life
Transportation
Genealogies: Bray Wilkins and John Willard
Military History and Balcony Collection
Middleton Square
Stream Team
Tri-Town Transcripts
Bicentennial Photo Collection–1976
State Register of Historic Places (2003)
Housing Inventory–1977
Middleton Postcards
Calendars 2003-2018
Celebrations and Parades
Government–Essex County, Commonwealth of MA, and Federal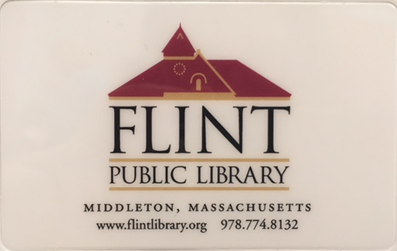 Local History to Borrow

While most of our local history resources are in-library use only or online, the library's collection does include some items pertaining to local history that may be borrowed. In general, books about the history of Massachusetts, including specific regions, counties, and cities, can be found in the non-fiction section at 974.4.

We also have DVDs of certain local events that may be borrowed. These include:
Middleton Bicentennial Parade, 1928
N&J Donuts: Photographs and Memories
Middleton Square & South Main Street, March 30, 1985
250th Centennial Parade September 24, 1978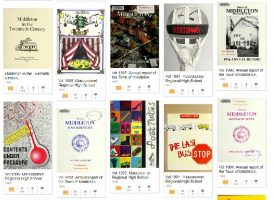 Local History Online
In addition to being available to browse yearbooks in the library, you can find Masconomet Regional High School Yearbooks from 1960 to 2015 at the Internet Archive by clicking here. For ease of searching, we suggest sorting that webpage by date published.
At the same webpage, you will also find Middleton Annual Reports from 1862 to 2009.
Click here to view a digital copy of "Biography of Charles L. Flint and Brief History of the Flint Public Library," a 12-page pamphlet compiled by the Board of Trustees of the Flint Public Library circa 1952.
Click here to view a digital copy of Images of America: Middleton by Shirley Paul Raynard with the Middleton Historic Society.
Click here to view a digital copy of Middleton in the Twentieth Century, presented by the Middleton Historical Society in 1998.
Click here to view a brief pamphlet outlining Middleton's history and historic buildings. This pamphlet was created in 1975 by the Flint Library's Bi-Centennial Committee and updated in 2018 by the Flint Library's Assistant Director, Loretta Johnson.
Click here to view a digital copy of The Stones Speak: Bits and Pieces of Middleton's History Focused on its Cemeteries, written by Rita M. Kelley and edited and published by the Middleton Historical Society.
Here you can find three historic maps of Middleton.
Here you can find digitized issues of the Pennysaver and Tri-Town Transcript from 1962 to 2003.
This website maintains digital copies of some of the early vital records (1600-1850) for various towns in Massachusetts, including Middleton.
The Digital Records at the Massachusetts Archives includes links to numerous free online databases, including vital records 1841-1925 as well as some census lists and other genealogical information.