Welcome to the Flint Public Library!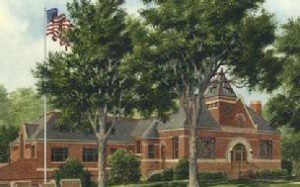 The mission of the Flint is to inform, enrich, and empower every person in the community by creating and promoting easy access to a vast array of ideas and information, and by supporting an informed citizenry, lifelong learning, and love of reading. The Flint Public Library is interested in providing all citizens with open access to the widest range of materials and services which will fulfill their informational, educational, and recreational needs for living in today's world.
The Flint Public Library owns more than 65,000 items including books, music, audiobooks, DVDs, newspapers, and magazines. In addition, your library card gives you access to over 1.5 million items owned by Merrimack Valley Library Consortium including e-books and online research databases. You can use the Search Library Catalog box to find items and reserve them for pickup at the Flint Public Library.
Of course, the Flint Library offers more than just books; library programs are also extremely popular—we offer dozens of events every week for children, teens, adults and families. Check the Events Calendar for upcoming events.
The Library could not accomplish any of this without our dedicated and skilled staff who are ready to connect you to the information or resources you need. In addition to our paid staff, the library benefits from the many hours of service given by dedicated volunteers and to the members of the Friends of Flint Library who support the library throughout the year and actively promote the library and its services.
Our Library is a place of contemplation, engagement, dialog and activity. We are constantly seeking ways to improve our service to Middleton residents. Please contact library staff if you have any questions about library services or suggestions. We welcome your thoughts and ideas!